What's been said…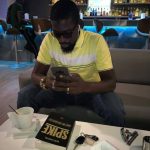 I must begin by thanking you a million times for writing the book SPIKE, I currently have a collection of over a thousand book in my in-house mini library book collection but of all the books I read SPIKE stand out.
I have always tried searching for what am I good at and with all honesty "SPIKE" has shown me the way and it has become my daily read and I carry it along anywhere I go and take the opportunity to read it any opportunity I have.
Your weekly emails with your articles too does it for me and the reason I registered to be receiving the daily SPIKE is to enable me get focus on the vision. Since coming into contact with you, my perceptions have really changed positively and for that I say thank you.
To end I would take the opportunity to inform you that I applied for the Harvard Business School Africa Business Club New Venture Competition and out of 120 applicants across Africa I am placed on the waiting list for 2018 and because of their impressed about my application, I got an invitation to attend the conference first week of March 2018 at Harvard Business School.
Once again thank you and keep INSPIRING a generation.